help promote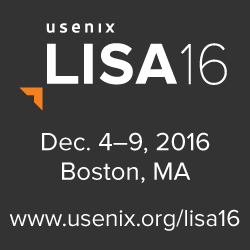 Get more
Help Promote graphics!
usenix conference policies
twitter
Workshop 12: System Administration in Higher Education
Tuesday, November 10, 2015 -

1:30pm

-

5:00pm
Jackson
David Parter, University of Wisconsin-Madison Computer Sciences Department
Abstract:
This workshop will provide a forum for IT staff from higher education institutions to share ideas, concerns and experiences with peers from other institutions. Workshop leaders will have a number of topics prepared, but the bulk of the agenda will be set by the participants.
Topics and situations that are of particular concern to system administrators in higher education include:
The Higher Ed and Higher Ed IT cultures
Working with both centralized and distributed/independent IT organizations
Skills to deal with the diverse and competing forces in the Higher Ed setting
Practical ideas to improve the service and support we provide
IT decision-making in Higher Ed
Being effective and when the outcomes are difficult to measure; our product is the mission of the institution, accomplished by our students,
faculty and staff
Career advancement and moving into or out of Higher Ed
Working with research projects, students, instructors and faculty
Keeping tech current and relevant while maintaining significant infrastructure used by diverse and possibly unknown or unidentified user bases.
David is the IT Director for the University of Wisconsin-Madison Computer Sciences Department, where he was a senior system administrator and Associate Director. In addition to IT leadership within the CS Department, he is an active participant in campus-level IT leadership and governance. David was Program Chair for LISA '99, and served on the SAGE Executive Committee and the LOPSA Board of Directors. He is also a hockey player and referee, and a private pilot.
BibTeX
@conference {208674,
author = {David Parter},
title = {Workshop 12: System Administration in Higher Education},
year = {2015},
address = {Washington, D.C.},
publisher = {{USENIX} Association},
month = nov,
}