help promote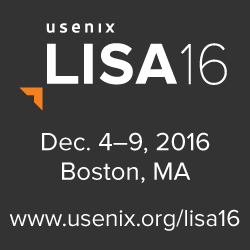 Get more
Help Promote graphics!
usenix conference policies
twitter
Workshop 11: Working with Openstack
Tuesday, November 10, 2015 -

9:00am

-

12:30pm
Jefferson
Chris St. Pierre, Cisco Systems
Abstract:
OpenStack is a spectacularly useful cloud computing platform that's also spectacularly complex. With an upstream community that at times can seem insular and dominated by developers, it can be a hard world for someone trying to do actual work with or on OpenStack. This workshop will be an opportunity to share experiences, concerns, tips, insights, and horror stories from working with OpenStack.
Chris St. Pierre is serving the twelfth year of a life sentence of hard labor at the command line. Currently he works as an OpenStack developer at Cisco Systems, with upstream contributions to a variety of OpenStack and StackForge projects including Nova, Glance, Horizon, and Rally. He is a Rally core reviewer.
Before escaping to software engineering, Chris spent over a decade as a systems administrator. He is one of the primary contributors to Bcfg2, the best configuration management system you've never used.
BibTeX
@conference {208675,
author = {Chris St. Pierre},
title = {Workshop 11: Working with Openstack},
year = {2015},
address = {Washington, D.C.},
publisher = {{USENIX} Association},
month = nov,
}