help promote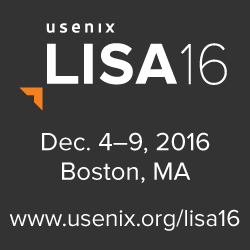 Get more
Help Promote graphics!
usenix conference policies
twitter
Interfacing with Humans: How to Manage in Prod Ops
Thursday, November 12, 2015 -

2:00pm

-

3:30pm
Connie-Lynne Villani, Grilled Cheese Invitational
With degrees in both Electrical Engineering and Theater Management, Connie-Lynne brings 20 years of System Engineering experience to the table, as well as a keen understanding of how to handle drama in the workplace. In addition to founding and managing Groupon's first SRE team, Connie-Lynne has worked at Linden Lab, Yahoo, and Caltech, but admits that her most fun position is servng as a board member for the Grilled Cheese Invitational, an annual food festival celebrating all things cheesy.
Description:
Whether you call it Prod Ops, System Engineering, or simply "keeping it all working," ops managers face some particular challenges. How do you build new projects and services while solving all the production emergencies caused by the old, broken infrastructure? How do you juggle the demands of other teams in the company while keeping the site running? Above all, how do you give your team agency and keep them happy in a high-pressure, distraction-driven, 24x7 environment? Learn practical skills and techniques for the human side of Ops in this mini-tutorial by Connie-Lynne Villani.
Note: As this is a management class, there is no specific software that should be loaded. Attendees may find it useful to create a Trello account: https://trello.com/
Who should attend:
The target audience for this talk is primarily managers (product, project, and people) or people looking to move into management. However, individual contributors are an excellent secondary audience for this talk because it provides real-life tools they can take back to their team, as well as guidance on being a leader even for non-managers.
Take back to work:
Attendees should bring back to work practical techniques for people management, including:
How to interview for the skills you want while avoiding bias.
How to coach underperformers, even when it's uncomfortable.
How to encourage growth.
How to distribute work equitably and manage time.
Techniques for avoiding burnout (for the manager and the ICs).
How to set expectations and evaluate resources when taking on new projects for your team.
How to prepare for and anticipate crisis, and keep a team functional during that time.
Topics include:
Topics covered in this mini-tutorial include:
Hiring
Performance management
Product management
Tools for collaboration
Time management
On-Call Rotations
Incident Analysis