help promote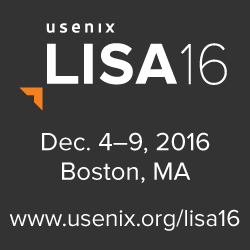 Get more
Help Promote graphics!
usenix conference policies
twitter
ITIL Overview for System Administrators
Friday, November 13, 2015 -

9:00am

-

10:30am
Eric Sorbo is an Information Technology Instructor with Science Applications International Corporation. Currently contracted to support the United States Central Command in Tampa, Florida, his role there is to lead a team of instructors who provide software and technology training. He has been an instructor for over 10 years and has taught courses for several organizations and universities.
Description:
ITIL Foundation teaches the audience about IT service management from a lifecycle perspective of a service as it flows through the phases of initial concept to design and into operation/production. The talk is beneficial to anyone who develops or supports an IT service either from a direct or indirect support role. The emphasis of the talk is how system administrators fit into the service lifecycle. The discussion will give a quick overview of all processes, but will spend a majority of time on the processes that system administrators deal with most.
Who should attend:
This talk is for people who have heard about ITIL and would like to know a little more about it and how Sys Admins fit into it. All of the information shared will be at the Foundation level and will not go into details beyond that level. It is not intended for those who have already attended an ITIL Foundation class or obtained the certification. 
Take back to work:
By adopting some of the best international practices for managing IT services, IT service providers can become more effective and efficient. System administrators can play an important role in the adoption of ITIL best practices, and may decide to further their education and obtain ITIL Foundation certification.
Topics include:
Overview of the ITIL service lifecycle
Service design warranty processes (availability, capacity, continuity and security)
Service transition processes (release and deployment)
Service operation processes (incident and problem)
Summary game (played by anyone in audience who has a smart phone or laptop with Internet access)