help promote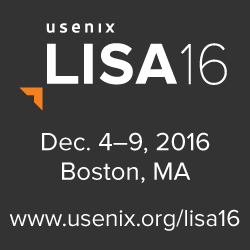 Get more
Help Promote graphics!
usenix conference policies
twitter
Windows Just Got Chocolatey (Package Management)
Thursday, November 12, 2015 -

11:00am

-

11:45am
Rob Reynolds, Puppet Labs
Abstract:
Other platforms have long enjoyed package management, a concept that was mostly foreign to Windows. There have been a few attempts at it, but the only one that has had a large amount of success is Chocolatey. Chocolatey took a different approach that has allowed it to build on top of an existing Windows ecosystem. Learn about the simplicity and sensible design of Chocolatey, how it has started to serve the role of package management for Windows, and where we are taking it in the future.

Kids love it. Microsoft Approved! Chocolatey does some cool things that will save you time and money for your organization and make you look uber smart for using it. Come learn more
Rob is a developer who has a passion for developing low maintenance solutions. In his day job he works at Puppet Labs getting his automation on. By night, Rob is very active in OSS and manages several OSS projects. Some of those projects include Chocolatey (kind of like apt-get but for Windows) and RoundhousE (database migration engine, part of the Chuck Norris Framework). He tends to speak his mind about the importance of Behavior Driven Design. See more at https://about.me/ferventcoder.
Open Access Media
USENIX is committed to Open Access to the research presented at our events. Papers and proceedings are freely available to everyone once the event begins. Any video, audio, and/or slides that are posted after the event are also free and open to everyone. Support USENIX and our commitment to Open Access.
BibTeX
@conference {208742,
author = {Rob Reynolds},
title = {Windows Just Got Chocolatey (Package Management)},
year = {2015},
address = {Washington, D.C.},
publisher = {USENIX Association},
month = nov
}

Presentation Video
Presentation Audio