help promote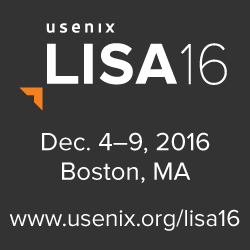 Get more
Help Promote graphics!
usenix conference policies
twitter
Transactional System Administration Is Killing Us and Must be Stopped
Friday, November 13, 2015 -

2:00pm

-

2:45pm
Thomas A. Limoncelli, Stack Overflow
Abstract:
Transactional system administration puts sysadmins in a bad position. When organizations replace this model with a service-centric model the company receives better service and sysadmins gain positive visibility and increase their value.

The transactional model is where customers make requests and system administrators fulfill them. It is the model of servitude. This has been the power dynamic for decades. The service-centric model is where sysadmins maintain the automation that does work rather than doing the work themselves. Another way to look at it is that the best use of human labor in an auto factory is not to build cars, but to maintain the robots that build cars.

Stack Exchange's SRE Team is making strides at minimizing transactional system administration and, instead, adopting DevOps practices that create a cooperative relationship with our users. We've adopted this as our guiding management principle and it has greatly improved how we get things done.

Tom will discuss the successes and failures of these attempts and recommend how your organization can adopt this better structure.
Tom is an internationally recognized author, speaker, and system administrator. His new book, The Practice of Cloud System Administration (http://the-cloud-book.com), launched last year. His past books include Time Management for System Administrators (O'Reilly) and The Practice of System and Network Administration (Pearson). In 2005, he received the USENIX LISA Outstanding Achievement Award. He works in New York City at Stack Exchange, home of Careers.Stackoverflow.com, and previously worked at Google and Bell Labs. His blog is http://EverythingSysadmin.com and he tweets @YesThatTom.
Open Access Media
USENIX is committed to Open Access to the research presented at our events. Papers and proceedings are freely available to everyone once the event begins. Any video, audio, and/or slides that are posted after the event are also free and open to everyone. Support USENIX and our commitment to Open Access.
BibTeX
@conference {208718,
author = {Thomas A. Limoncelli},
title = {Transactional System Administration Is Killing Us and Must be Stopped},
year = {2015},
address = {Washington, D.C.},
publisher = {USENIX Association},
month = nov
}

Presentation Video
Presentation Audio