help promote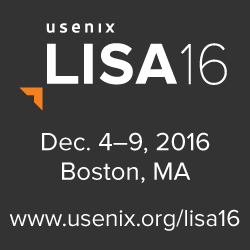 Get more
Help Promote graphics!
usenix conference policies
twitter
System and Application Monitoring and Troubleshooting with Sysdig
Thursday, November 12, 2015 -

11:00am

-

11:45am
Gianluca Borello, Software Engineer, Sysdig
Abstract:
This presentation will cover the current state of system monitoring and visibility, including real use-cases and pros / cons of each. Then, it will focus on troubleshooting and visibility of distributed cloud applications and containers with sysdig.
The presentation will include live interaction with environments and will focus on bringing practical value to the audience.
Gianluca Borello works at Sysdig, where he wears many hats. He's a core developer of the sysdig troubleshooting tool, and spends his days dealing with backend development, performance analysis and cloud infrastructures management. Prior to Sysdig, he worked at Riverbed and CACE Technologies, the company behind Wireshark. He's passionate about Linux, open source technologies and distributed systems at scale. He holds an MS in Computer Engineering from Politecnico di Torino, Italy.
Open Access Media
USENIX is committed to Open Access to the research presented at our events. Papers and proceedings are freely available to everyone once the event begins. Any video, audio, and/or slides that are posted after the event are also free and open to everyone. Support USENIX and our commitment to Open Access.
BibTeX
@conference {208740,
author = {Gianluca Borello},
title = {System and Application Monitoring and Troubleshooting with Sysdig},
year = {2015},
address = {Washington, D.C.},
publisher = {USENIX Association},
month = nov,
}

Presentation Video
Presentation Audio