help promote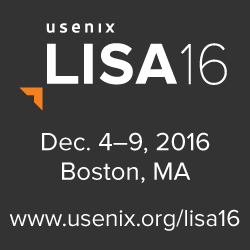 Get more
Help Promote graphics!
usenix conference policies
twitter
Cloudy with a Chance of Security: PKI in the Age of Distributed Computing
Friday, November 13, 2015 -

2:00pm

-

3:30pm
Brian J. Atkisson, Red Hat, Inc.
Brian J. Atkisson has 15 years of production systems engineering and operations experience, focusing primarily on identity management and virtualization solutions. He has worked for the University of California, Jet Propulsion Laboratory, and Red Hat, Inc. He is a Red Hat Certified Architect and Engineer, in addition to holding many other certifications and a B.S. in Microbiology. He currently is a Principal Systems Engineer on the Identity and Access Management team within Red Hat IT.
Description:
This mini tutorial will introduce basic concepts of PKI, and cover the installation and configuration of Dogtag Certificate System, a robust, feature-rich and open source end-to-end PKI solution. Certificate use cases with a focus on cloud-based applications will be discussed and evaluated.
Who should attend:
System administrators, engineers, and security professionals looking to learn more about using and deploying PKI within traditional enterprise and cloud environments should attend.
Take back to work:
In this tutorial, you will learn to install and use Dogtag Certificate System, receive a reference architecture, and be exposed to new use cases within cloud deployments.
Topics include:
Why use PKI and where it fits in today's enterprise environment
Dogtag component overview
Typical architecture and best practices
Installation and configuration
Cloud use-cases and benefits
Traditional RSA vs. ECC certificates, recommended uses and deployment strategies