help promote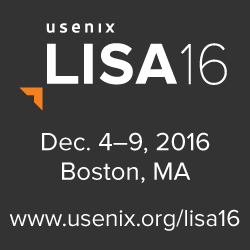 Get more
Help Promote graphics!
usenix conference policies
Demand-Provisioned Linux Containers for Private Network Access
Patrick T. Cable II, MIT Lincoln Laboratory
LISA16 Open Access Sponsored by Bloomberg
Open Access Media
USENIX is committed to Open Access to the research presented at our events. Papers and proceedings are freely available to everyone once the event begins. Any video, audio, and/or slides that are posted after the event are also free and open to everyone. Support USENIX and our commitment to Open Access.
BibTeX
@conference {208950,
author = {Patrick T. Cable II},
title = {{Demand-Provisioned} Linux Containers for Private Network Access},
year = {2014},
isbn = {978-1-931971-17-1},
address = {Seattle, WA},
pages = {148},
publisher = {USENIX Association},
month = nov
}