help promote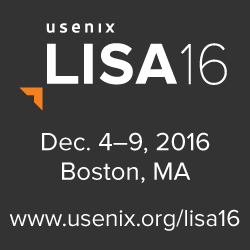 Get more
Help Promote graphics!
usenix conference policies
A New Age in Alerting with Bosun: The First Alerting IDE
Thursday, November 13, 2014 -

11:45am

-

12:30pm
Kyle Brandt, Stack Exchange, Inc.
Abstract:
At conferences we are told to "Be an Engineer!". Being an engineer with alerts means creating accurate and informative alerts so we can own and direct attention. The tools available to us fall short of empowering us to do this. That is why we created Bosun, a free and open source alerting IDE. Bosun has an expression language that decouples alerts from the metrics collected. It allows you to use methods including statistics, forecasts, boolean operations, and anomaly detection to define accurate alerts. You can then create rich and informative notifications. It also lets you experiment with how alerts would have behaved over history. Alerting is now an engineering discipline - come join me in exploring the implications of these new possibilities.
Kyle Brandt is the co-author of the Bosun monitoring system and the Director of Site Reliability at Stack Exchange (the company behind Stack Overflow and Server Fault). He will talk to you about monitoring until he starts to lose his voice. He also enjoys spending time with his wife and pets (2 cats and a dog), video games, weight lifting, and road trips on his Harley.
Open Access Media
USENIX is committed to Open Access to the research presented at our events. Papers and proceedings are freely available to everyone once the event begins. Any video, audio, and/or slides that are posted after the event are also free and open to everyone. Support USENIX and our commitment to Open Access.
BibTeX
@conference {208956,
author = {Kyle Brandt},
title = {A New Age in Alerting with Bosun: The First Alerting {IDE}},
year = {2014},
address = {Seattle, WA},
publisher = {USENIX Association},
month = nov
}

Presentation Video
Presentation Audio