help promote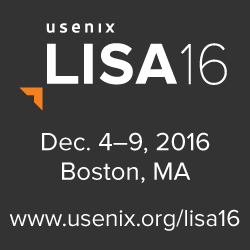 Get more
Help Promote graphics!
usenix conference policies
twitter
Workshop 10: Security Workshop
Tuesday, November 10, 2015 -

9:00am

-

5:00pm
Lincoln 3
Alex Malin, Los Alamos National Laboratory
Abstract:
Cyber security is an integral part of the practice of systems administration. This workshop provides a forum for security-minded system administrators and researchers to discuss current issues surrounding how systems management and security intersect. Participants select workshop topics in an open format. Learn from colleagues' successes and get insights into security challenges you're currently engaged in.
Potential Topics:
High-profile break-ins the past year: implications and impacts
Protecting critical digital assets, and the servers that represent single points of compromise
Security, privacy and the bottom line
Advanced persistent threat
Cloud security
Authentication best practices
Compliance and regulation
Many others as selected by workshop participants
Alex Malin has held positions as Network Security Engineer at Pacific Bell Corporation and Senior Systems Technician at the Department Of Energy Albuquerque Service Center. At Los Alamos National Laboratory since 2003, he has worked as Intrusion Detection Analyst, Senior Cyber Security Advisor, and has been Cyber Architect and Information System Security Officer for the High Performance Computing Division since 2010.
BibTeX
@conference {208676,
author = {Alex Malin},
title = {Workshop 10: Security Workshop},
year = {2015},
address = {Washington, D.C.},
publisher = {{USENIX} Association},
month = nov,
}