help promote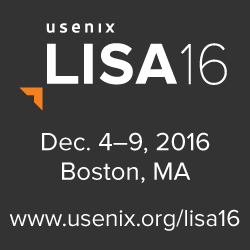 Get more
Help Promote graphics!
usenix conference policies
twitter
Thomas Uphill
Thomas is a Red Hat certified architect with nearly 20 years of system administration experience. He has spoken at LISA, LOPSA, PICC, Cascadia, and PuppetConf. He has been working with Puppet for several years and recently wrote the Third Edition of the Puppet Cookbook. Thomas previously wrote Mastering Puppet, a book on deploying Puppet in large environments. He is a board member of LOPSA and the vice-president of SASAG, the Seattle chapter of LOPSA. When he isn't working on LOPSA or SASAG he can be found hosting the Puppet User Group Meetup in Seattle (PUGS).