help promote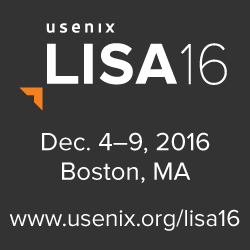 Get more
Help Promote graphics!
usenix conference policies
twitter
Dinah McNutt
Dinah McNutt is a Release Engineer at Google, Inc. She has been involved with systems administration since the mid-1980's. Some of her accomplishments include writing the Daemons & Dragons column for Unix Review Magazine, writing for SunExpert Magazine, Byte, and other publications. She has served on the LISA program committee several times including chairing the conference.
She has 20 years of commercial release engineering experience and has released all types of Unix-based software from shrink wrapped to web-based services to network appliances. She is the chair or URES '15 and was a keynote speaker at RELENG 2014.