help promote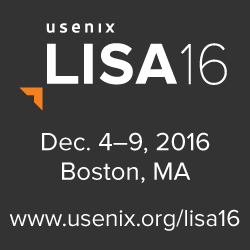 Get more
Help Promote graphics!
usenix conference policies
twitter
Running with MongoDB: Build Your Cluster Like a Champ!
Wednesday, November 11, 2015 -

11:00am

-

12:30pm
Nuri Halperin, Plus N Consulting, Inc.
Nuri Halperin consults, develops software, and teaches with passion. He designs and builds systems, websites and business applications, and gets things done for a variety of clients, both small and large. He also authors courses for pluralsight.com, is a MongoDB Master, and was the inaugural recipient of MongoDB's William Zola Outstanding Contributor Award. A frequent speaker at tech events, Nuri enjoys interacting and helping people reach that "Aha!" moment.
Description:
MongoDB is an open-source, document-oriented, NoSQL database that is becoming to go-to choice for many organizations. Although cunningly easy to set up and get started, MongoDB is a database, and requires proper care and knowledge to run successfully in a large scale production environment.

Attendees will learn and implement several ways that make a MongoDB clusters run smoothly. This will include replica set, deployment topology, sharding for scale, and performance considerations and insights.
Requirements:
A machine with at least 4 GB of RAM
At least 8 GB free disk space
The MongoDB distribution of version 3.0.0 or above (stable release version!) for the student OS (available for Linux, Mac, Windows)
Access permissions to run, install, and configure software on the OS
Who should attend:
DBAs, DevOps, and anyone taking on supporting or operating a MongoDB deployment in production.
Take back to work:
An understanding of MongoDB's scale and durability mechanisms

How to plan and deploy replica sets and sharded clusters

Considerations of availability, performance, and consistency when running Mongo clusters
Topics include:
MongoDB replica sets
MongoDB sharding
Deployment topology considerations
Performance considerations