help promote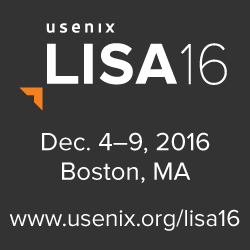 Get more
Help Promote graphics!
usenix conference policies
Workshop 9: Improv: Think, React, Go!
Website Maintenance Alert
Due to scheduled maintenance, the USENIX website will not be available on Monday, December 16, from 10:00 am to 2:00 pm Pacific Daylight Time (UTC -7). We apologize for the inconvenience.
If you are trying to register for Enigma 2020, please complete your registration before or after this time period.
Tuesday, November 11, 2014 -

9:00am

-

12:30pm
Madrona Room
H. Wade Minter, Adwerx
Abstract:
Like it or not, sysadmins have to work with other people. And people are much more challenging than software. But what if you could learn how to play well with others, brainstorm better, and have more fun doing it? Shockingly enough, there's a way!
In this workshop, you'll learn the basics of applied improvisational thinking from someone who has spent equal time as a sysadmin and improv performer. No drum circles, fire walks, or touchy-feely buzzwords, just real techniques that you can take back to your job, open source project, or home.
Give the right side of your brain some love this week and learn a new way of thinking in a fun and safe setting!
H. Wade Minter is the Chief Technology Officer at TeamSnap, a company that makes life easier for people who participate in youth and adult recreational sports. He is also the ring announcer for a professional wrestling federation. The two roles may or may not be related.
BibTeX
@conference {209006,
author = {H. Wade Minter},
title = {Workshop 9: Improv: Think, React, Go!},
year = {2014},
address = {Seattle, WA},
publisher = {{USENIX} Association},
month = nov,
}