help promote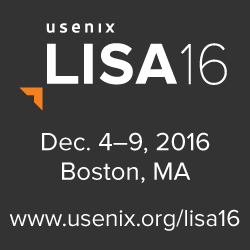 Get more
Help Promote graphics!
usenix conference policies
Workshop 10: Advanced Topics
Tuesday, November 11, 2014 -

12:30pm

-

5:00pm
Cedar Room AB
Adam Moskowitz, MathWorks
Abstract:
NOTE: This workshop includes lunch served in the workshop room starting at 12:30 pm.
This workshop, intended for very senior administrators, provides an informal roundtable discussion of the problems facing system administrators today. Attendance is limited and based on acceptance of a position paper (plain ASCII, three paragraphs maximum); a typical paper covers what the author thinks is the most difficult or important issue facing system administrators today, why this is a problem, and why this problem is important. A more complete description of the workshop and information about position papers is available at atw.menlo.com/. Position papers should be sent to lisa14ws-atw@usenix.org. Attendees are required to bring a laptop computer.
BibTeX
@conference {209005,
author = {Adam Moskowitz},
title = {Workshop 10: Advanced Topics},
year = {2014},
address = {Seattle, WA},
publisher = {USENIX Association},
month = nov,
}