help promote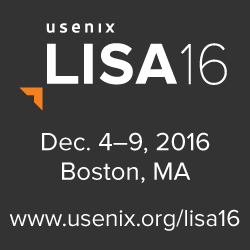 Get more
Help Promote graphics!
usenix conference policies
LISA Data Storage Day
Sponsored by Cambridge Computer
Join us on Wednesday, November 12, 2014 at the Sheraton Seattle Hotel for LISA Data Storage Day. This one-day event is focused on the current trends in the storage industry. Registration is free as a way of introducing newcomers to the LISA conference. The goal of LISA Data Storage Day is to explain the trends and developments in the storage industry in the language spoken by hands-on IT professionals. Other events tend to glaze over how and why specific products or technologies work, focusing instead on the business value. However, at LISA Data Storage Day, we'll provide a peek under the proverbial hood, making it easier to match technology to business value—thus creating a unique event that's well worth a day out of the office!
What: LISA Data Storage Day
Where: Redwood Room, Sheraton Seattle Hotel
When: Wednesday, November 12, 9:00 am–5:00 pm
Registration
Registration for LISA Data Storage Day is FREE and includes admission to the LISA14 Vendor Expo, Exhibit Hall Happy Hour, and Wednesday BoFs. You can register online for LISA Data Storage Day now as part of a part of a LISA14 conference pass. If you plan to attend only LISA Data Storage Day and the Vendor Expo, please use this separate registration form.
Discounted Registration for LISA14
LISA registration is not required to attend LISA Data Storage Day; however all LISA Data Storage Day attendees receive a $75 discount on the 3-day LISA Conference pass. Please use the discount code: LISA14DATA
The LISA Data Storage Day agenda will be posted below when it becomes available.
LISA Data Storage Day Sponsors and Exhibitors
Avere Systems
Avere Hybrid Cloud ends the rising cost and complexity of data storage with the freedom to store files anywhere in the cloud or on premises without sacrificing the performance, availability or security of your data. Achieve unlimited performance scaling, eliminate latency and cut storage costs by more than 50%.
Cambridge Computer
Cambridge Computer specializes in storage networking, data protection, and digital archiving technologies. For nearly twenty years, we have helped our clients identify their needs, devise long-term storage management strategies, and compare technologies from different hardware and software manufacturers. Recommending customized solutions often comes at no cost to our customer. Our professional services include consulting, integration, project management, and knowledge transfer. Our technical expertise is known throughout the storage industry. Our clients include leading corporations, major financial institutions, top universities, the most vital of government facilities, as well as small to medium size businesses. Allow us to apply our creativity to design a solution that meets your budget and exceeds your expectations.

Code42's enterprise endpoint data protection solutions reduce the burden on IT by empowering employees. The company's user-friendly applications — CrashPlan and SharePlan — consistently achieve the industry's highest user adoption rates. Employees can share, access and recover data from any device. Enterprises choose from managed private, public or hybrid clouds, backed by unmatched customer support

Maginatics
Maginatics is an emerging leader in distributed enterprise storage solutions. Our mission is to revolutionize storage with the world's most elastic, adaptive cloud storage system. The Maginatics Cloud Storage Platform (MCSP), natively designed for software-defined datacenters and cloud, enables enterprises to manage their growing unstructured data with unprecedented IT agility.
Qualstar
Qualstar's XLS Enterprise Libraries scale from 250 terabytes to over 35 petabytes. Unique Compass Architecture™ reduces wear and power consumption, yielding greater reliability and lower operating costs. The new RLS-8500 Rack Mount Libraries offer capacities exceeding 340 terabytes and house up to five LTO 5 drives in compact 10U chassis.