help promote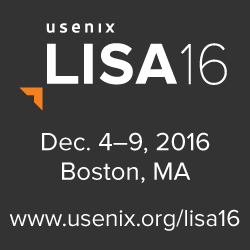 Get more
Help Promote graphics!
usenix conference policies
Insight Engineering: An Introduction to Modern Monitoring and Alerting
Thursday, November 13, 2014 -

2:00pm

-

3:30pm
Joseph Ruscio, CTO of Librato
Joseph Ruscio is a Co-Founder and the Chief Technology Officer at Librato. He's responsible for the company's technical strategy, product architecture, and hacks on all levels of their vision for the future of monitoring. Joe has 15 years of experience developing distributed systems in startups, academia, and the telecommunications industry and he holds a Masters in Computer Science from Virginia Tech. In his spare time he enjoys snowboarding and obsessing over the details of brewing both coffee and beer. He loves graphs.
Description:
An in-depth tutorial on the cutting-edge monitoring and alerting systems/practices employed by the best operations teams to gain deep insights into the performance characteristics of their infrastructures.
Who should attend:
Practitioners responsible for building, operating, or maintaining production systems. Anyone interested in using metrics to reduce the latency in identifying emergent issues, determine their cause, and validate remediation.
Take back to work:
A new understanding of how modern teams are applying real-time metrics to drive almost all aspects of their work. Best practices in data collection, visualization, and alerting. Knowledge of common anti-patterns and how to avoid them.
Topics include:
The goals of a cutting-edge monitoring infrastructure and the requirements they impart.
The different patterns used to implement these capabilities with real-world examples and the different trade-offs they entail.
Data Visualization
Alert Design & Management