help promote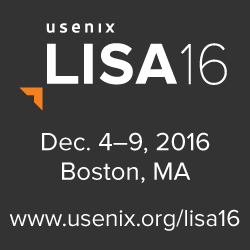 Get more
Help Promote graphics!
usenix conference policies
Networking in the Cloud Age
Thursday, November 13, 2014 -

11:00am

-

12:30pm
David Nalley, Apache CloudStack
David Nalley is a recovering systems administrator of 10 years. He's currently employed by Citrix Systems in the Open Source Business Office. David is the Vice President, Infrastructure at the Apache Software Foundation, and a Project Management Committee Member for Apache CloudStack and Apache jclouds. David is a frequent author for development, sysadmin, and Linux magazines and speaks at numerous IT conferences.
Description:
Networking has been relatively static for decades, and while we've seen increases in speed, most traditional topologies are inherently limited, and innovative networks are quite different. When you look at public services like AWS, or large private cloud deployments, their networking topology looks contrary to everything that's been "standard" for years. In this half-day class we'll reexamine what the limitations of traditional networks are, and what innovative options exist to remove those limitations.
Who should attend:
Advanced system or network admins with a deep understanding of L2/L3 networking wishing to learn about the networking technologies that are making an appearance and enabling scaling networks.
Take back to work:
The knowledge of what emerging networking standards are, and where they are best used.
Topics include:
Learn how massive public and private clouds build their networks to ensure scalability.
The scale limitations of current networking models
What are software defined networks (SDNs) - how do they work
Which technologies are worth looking at today: VXLAN, NVGRE, GRE, STT