help promote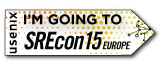 twitter
usenix conference policies
SREcon15 Europe Programme
All events will take place at The Foundry, which is located inside Gordon House on Barrow Street, Dublin 4, at Google Dublin, unless otherwise noted.
Download the SRECon15 Europe Attendee List (Conference Attendees only)
Attendee Files
(Registered attendees: Sign in to your USENIX account to download this file.)
Attendee List - SREcon15 Europe
Thursday, May 14, 2015
07:30–09:00

Badge Pickup

08:00–09:00

Continental Breakfast

Lounge

09:30–10:00
10:00–11:00

11:00–11:30

Break with Refreshments

Lounge

11:30–13:30
13:30–14:30

Lunch

Garage Cafe
14:30–16:30

16:30–17:00

Break with refreshments

Lounge

17:00–17:30
17:30–18:00

18:30–20:30

Reception at The Westin Dublin

Sponsored by Facebook
Ticket required for admission. Attendees who did not add this option may modify their registration to include a reception ticket as long as tickets remain available.
Friday, May 15, 2015
08:30–09:00

Continental Breakfast

Lounge
09:00–11:00

11:00–11:30

Break with Refreshments

Lounge

11:30–13:30
16:30–17:00

Break with refreshments

Lounge