help promote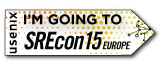 twitter
usenix conference policies
Overview
Keynote Speaker
Todd Underwood is Site Reliability Director at Google. Prior to that, he was in charge of operations, security, and peering for Renesys, a provider of Internet intelligence services; and before that he was CTO of Oso Grande, a New Mexico ISP. He has a background in systems engineering and networking. Todd has presented work related to Internet routing dynamics and relationships at NANOG and RIPE, and presented about SRE at LISA.
Thank you to everyone that attended SREcon15 Europe!
SREcon15 Europe, which took place 14-15 May 2015, in Dublin, Ireland, provided another opportunity for the SRE community to meet, discuss current approaches, and tackle open issues as a group. The two-day conference included talks and tutorials in areas like system design, cloud-scale automation, SDN, instrumentation and metrics, and failure diagnosis. The programme provided deep expertise while emphasizing connections to issues in large-scale system design and operation, including:
"Recovery from Operations" Keynote Address from Todd Underwood, Google
Invited talks, panels, and training from employees of Argonne National Laboratory, Canonical, Circonus, Google, Etsy, Ericsson, Facebook, Google, IBM, SoundCloud, Spotify, Yelp, and other leading organizations
Thursday's Closing Talk on "Operational Software Design" from Theo Schlossnagle, Circonus
Video and audio recordings of the talks and presentation slides from the speakers are available on the programme page. You can follow us on Twitter or visit the SREcon page for more news and updates on all of our global SREcons.
Conference Organizers
Program Co-Chairs
Program Committee
Martín Ferrari, Independent
Joshua Hoffman, SoundCloud Ltd.
Avishai Ish-Shalom, Fewbytes
Niall Richard Murphy, Google