help promote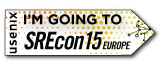 twitter
usenix conference policies
Statistics for Engineers
Thursday, May 14, 2015 -

10:00am

-

1:30pm
Heinrich Hartmann, Circonus
Abstract:
Gathering all kinds of telemetry data is key to operating reliable distributed systems at scale. Once you have set up your monitoring systems and recorded all relevant data, the challenge becomes to make sense of it and extract valuable information, like:
Are we fulfilling our SLA?
How did our query response times change with the last update?
Statistics is the art of extracting information from data. In this tutorial, we address the basic statistical knowledge that helps you in your daily work as a system operator. We will cover probabilistic models, summarizing distributions with mean values, quantiles, and histograms and their relations. Advanced topics like time series forecasting and scalability analysis will also be touched.
The tutorial focuses on practical aspects and will give you hands-on knowledge of how to handle, import, analyze, and visualize telemetry data with UNIX command line tools, gnuplot, and the iPython toolkit.
Heinrich Hartmann is the data science lead at Circonus. He is driving the development of analytics methods that transform monitoring data into actionable information as part of the Circonus monitoring platform.
In his prior life, Heinrich pursued an academic career as a mathematician. He earned his PhD from the University of Bonn (Germany) on geometric aspects of string theory and worked as a researcher for the University of Oxford, UK afterward. In 2012 he transitioned into computer science and now applies his 10+ years of mathematical expertise to data analytics.
BibTeX
@conference {208867,
author = {Heinrich Hartmann},
title = {Statistics for Engineers},
year = {2015},
address = {Dublin},
publisher = {USENIX Association},
month = may
}