help promote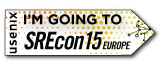 twitter
usenix conference policies
You are here
Home
»
DHCP Infrastructure Evolution at Facebook and the Importance of Designing Stateless Services
DHCP Infrastructure Evolution at Facebook and the Importance of Designing Stateless Services
Friday, May 15, 2015 -

10:00am

-

10:30am
Abstract:
Facebook is one of the largest sites in the world, with multiple datacenters (and POPs in multiple continents) hosting a pretty large amount of machines. This talk is about the evolution of the DHCP production infrastructure at Facebook.
In this talk we will use the DHCP case as an example to discuss why it's good to design your systems to be stateless, and the fine line between leveraging OSS projects where possible and take a "Not Invented Here" approach instead. We will also talk about the challenges of driving large scope projects from remote offices and the importance of possessing skills in both systems and software development fields.
We'll look at DHCP in Facebook in both IPv4 and IPv6 worlds, we will dive into old architecture and its limitations. and then talk about how the Cluster Operations team in Dublin leveraged the ISC KEA open source project to migrate from a stateful service to a stateless one, discussing challenges faced in the process and the benefits we gained.
Angelo is a Production Engineer at Facebook. He joined the company in early 2011 as a Site Reliability Engineer and recently moved to the Cluster Operations Team. In this period he has contributed to various projects, like our cluster turnup tool Kobold and F.B.A.R. (the Facebook Auto Remediation tool). More recently he has been involved in revamping the DHCP architecture for the Facebook production network, which he will discuss in this talk. He is interested in automation tools and large-scale distributed systems.
Open Access Media
USENIX is committed to Open Access to the research presented at our events. Papers and proceedings are freely available to everyone once the event begins. Any video, audio, and/or slides that are posted after the event are also free and open to everyone. Support USENIX and our commitment to Open Access.
BibTeX
@conference {208851,
author = {Angelo Failla},
title = {{DHCP} Infrastructure Evolution at Facebook and the Importance of Designing Stateless Services},
year = {2015},
address = {Dublin},
publisher = {USENIX Association},
month = may
}

Presentation Audio