help promote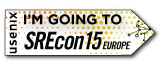 twitter
usenix conference policies
Upgrade Your Database without Losing Your Data, Your Perf, or Your Mind
Charity Majors, Parse/Facebook
Abstract:
Upgrading databases can be terrifying and perilous, and for good reason: you can totally screw yourself! Every workload is unique, and standardized test suites will never give you enough information to evaluate how an upgrade will perform for your query set. We will talk about how paranoid you should be about various types of workloads and upgrades, how to balance risk vs. engineering effort, and how to safely execute the most challenging upgrades by capturing and replaying real production workloads. The principles apply to any database, but we'll go particularly deep into war stories and tooling options for MongoDB and MySQL.
Charity Majors is a Production Engineering Manager on Parse, now working at Facebook. She has 10+ years of experience wrangling scaling problems and databases, and she has the scars to prove it. She loves free software, free speech, and free single malt scotch.
Open Access Media
USENIX is committed to Open Access to the research presented at our events. Papers and proceedings are freely available to everyone once the event begins. Any video, audio, and/or slides that are posted after the event are also free and open to everyone. Support USENIX and our commitment to Open Access.
Presentation Audio