help promote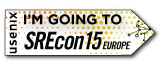 twitter
usenix conference policies
Non-Abstract Large Scale Design
Friday, May 15, 2015 -

9:00am

-

1:30pm
Laura Nolan and Diego Elio Pettenò, Google
Abstract:
This is a half-day version of the SRE Classroom event that has been run at other USENIX conferences in 2013 and 2014. It won't include much in the way of formal presentations, as previous SRE Classroom events have done. We expect this event to appeal to senior and experienced engineers.
The workshop problem will be a real-world large-scale engineering problem that requires some distributed-systems knowhow to tackle. Attendees will work in groups with Googlers on the problem, trying to come up with:
A high-level design that scales horizontally
Initial SLIs, SLOs
Estimates for hardware required to run each component
If time permits, monitoring design and disaster testing scenarios
Attendees will be provided with a workbook that guides them through tackling a problem like this, with some worked examples, so junior attendees should be able to make progress and learn too.
Laura Nolan has been a Site Reliability Engineer at Google for the past two years, and has worked with multiple large systems that use distributed consensus to achieve reliable, stable multihoming that really works without human babysitting. Prior to that she kept the e-commerce site gilt.com fast and stable during flash sales and worked for the Irish software company Curam Software, which is now part of IBM Smarter Cities. She is a keen traveller and scuba diver and an international-level weightlifting referee.
BibTeX
@conference {208846,
author = {Laura Nolan and Diego Elio Petten{\`o}},
title = {{Non-Abstract} Large Scale Design},
year = {2015},
address = {Dublin},
publisher = {USENIX Association},
month = may
}