help promote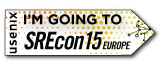 twitter
usenix conference policies
Heraclitus Wears Prada: DevOps, SRE, and Organisational Activities
Friday, May 15, 2015 -

11:30am

-

12:00pm
Abstract:
Taking some lessons from Meryl Streep as Anna Wintour, and the ancient Greek philosopher Heraclitus, we look at the role of SRE and devops within organisations. What is it that we do, and why? What are some organisational factors that contribute to the success of an SRE/devops group, and its failure? What incentives need to be in place, and what happens if they are missing?
Niall Murphy is currently head of the Ads Reliability Engineering function in Google Dublin, ostensibly in charge of the infrastructure supporting $18bn/quarter. Prior to Google he was in Amazon.COM Network Engineering, and a variety of self- or other-founded startups and Irish Internet institutions. He is the author of a book, a lecture course, and numerous articles, and is probably one of the few people in the world with a degree in Computer Science & Mathematics, and Poetry Studies.
Open Access Media
USENIX is committed to Open Access to the research presented at our events. Papers and proceedings are freely available to everyone once the event begins. Any video, audio, and/or slides that are posted after the event are also free and open to everyone. Support USENIX and our commitment to Open Access.
BibTeX
@conference {208830,
author = {Niall Murphy},
title = {Heraclitus Wears Prada: {DevOps}, {SRE}, and Organisational Activities},
year = {2015},
address = {Dublin},
publisher = {USENIX Association},
month = may
}