help promote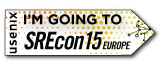 twitter
usenix conference policies
Software Defined Data Center is More Than a Software Defined Network
Friday, May 15, 2015 -

9:30am

-

10:00am
Abstract:
Cloud-scale automation requires significant changes in the operation of a data center. Depending on the usage pattern of the cloud, either cloud provider or cloud consumer, the impact to your data center differs. In the industry, the technologies covered under the term "Software Defined Data Center (SDDC)" are supposed to address these changes. But are Software Defined Network and Software Defined Storage really enough? I will show that there is more required to achieve a true "Software Defined Environment (SDE)." This talk will describe an architectural view on all aspects of SDE and how it addresses the requirements triggered by cloud environments.
After achieving a degree in Computer Science from RWTH Aachen, Astrid joined IBM Research and Development as a developer. She went through a career as software and firmware developer for System z and Power Systems, reaching the level of an IT architect. After that Astrid changed direction into technical sales as an IT architect for IBM systems as well as for IBM cloud solutions. She consulted clients in Europe, the U.S. and Asia on their transition into the cloud. The clients either wanted to expand their business and become a cloud provider or wanted more efficiency in their data centers by consuming cloud offerings. This gave Astrid a good background to understand the benefits of a Software Defined Environment. In 2014 she joined a team that developed a client adoption model for SDE.
Open Access Media
USENIX is committed to Open Access to the research presented at our events. Papers and proceedings are freely available to everyone once the event begins. Any video, audio, and/or slides that are posted after the event are also free and open to everyone. Support USENIX and our commitment to Open Access.
BibTeX
@conference {208849,
author = {Astrid Kreissig},
title = {Software Defined Data Center is More Than a Software Defined Network},
year = {2015},
address = {Dublin},
publisher = {USENIX Association},
month = may
}