help promote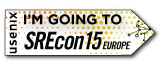 twitter
usenix conference policies
Prometheus: A Next-Generation Monitoring System (Workshop)
Friday, May 15, 2015 -

12:30pm

-

1:30pm
Julius Volz and Björn Rabenstein, SoundCloud Ltd.
Abstract:
Prometheus is a popular open-source monitoring system and time series database written in Go. It features a multi-dimensional data model, a flexible query language, and integrates aspects all the way from client-side instrumentation to alerting.
In an introductory talk, we will explain the architecture of Prometheus and the motivation behind it. Taking the instrumentation and monitoring of services at SoundCloud as an example, we will demonstrate how Prometheus helps us stay on top of a growing microservice architecture and detect and investigate outages.
In this workshop, participants will set up all critical components of the Prometheus ecosystem to monitor some toy services.
Julius and Björn are production engineers at SoundCloud. Coincidentally, both were SREs at Google in their respective previous lives. Julius is a co-founder of the Prometheus project, and both are maintainers and main contributors.
BibTeX
@conference {208864,
author = {Julius Volz and Bj{\"o}rn Rabenstein},
title = {Prometheus: A {Next-Generation} Monitoring System (Workshop)},
year = {2015},
address = {Dublin},
publisher = {USENIX Association},
month = may
}

Presentation Video