help promote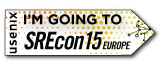 twitter
usenix conference policies
Mapping a Service-oriented Architecture
Website Maintenance Alert
Due to scheduled maintenance, the USENIX website will not be available on Tuesday, December 17, from 10:00 am to 2:00 pm Pacific Daylight Time (UTC -7). We apologize for the inconvenience.
If you are trying to register for Enigma 2020, please complete your registration before or after this time period.
Friday, May 15, 2015 -

4:30pm

-

5:00pm
Abstract:
The modern service-oriented architecture is a rat's nest of incidental complexity. Truly understanding what's running in production is a massive task, made more complex by heterogeneous runtimes, frameworks, and idioms.
In this talk I explore the problem space of mapping process-to-process communication in a large network. I enumerate the options we've explored, focusing on their costs and benefits. Finally I present Cello, a tool that I've developed over the past 18 months which deduces a service topology as a directed graph.
Peter Bourgon is a distributed systems engineer who has seen things. He's currently working on the infrastructure that powers SoundCloud, the web's biggest audio platform.
Open Access Media
USENIX is committed to Open Access to the research presented at our events. Papers and proceedings are freely available to everyone once the event begins. Any video, audio, and/or slides that are posted after the event are also free and open to everyone. Support USENIX and our commitment to Open Access.
BibTeX
@conference {208840,
author = {Peter Bourgon},
title = {Mapping a Service-oriented Architecture},
year = {2015},
address = {Dublin},
publisher = {{USENIX} Association},
month = may,
}

Presentation Video
Presentation Audio