help promote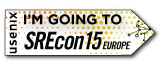 twitter
usenix conference policies
Making Every SRE Hire Count
Thursday, May 14, 2015 -

10:30am

-

11:00am
Chris Stankaitis, The Pythian Group

Abstract:
Our industry is changing rapidly to keep up with the demands of the business. This means that many of the tools, processes, and techniques that were perfectly valid only a few years ago are now antiquated and no longer meet our needs. The hiring process is not immune to this shift, and finding the right people to fill a 21st century SRE position is challenging.
From designing and grading technical tests to participating in technical interviewing/hiring manager "FIT" interviewing, making great people decisions is critical to the success of an SRE team and the pressure to get it right is high.
We will look at the process, how it has changed and how we have had to evolve to find the people we are looking for.
Chris Stankaitis is a Manager for the Site Reliability Engineering group at Pythian, an organization providing managed services and premium consulting to companies whose data availability, reliability, and integrity is critical to their business.
Chris is a key member of the hiring team for the Pythian SRE group and has participated in hundreds of candidate screenings and interviews over the past two years, resulting in the hiring of more than 30 Site Reliability Engineers.
BibTeX
@conference {208868,
author = {Chris Stankaitis},
title = {Making Every {SRE} Hire Count},
year = {2015},
address = {Dublin},
publisher = {USENIX Association},
month = may
}