twitter
usenix conference policies
LISA '13 Speaker Resources
We've created this page to help LISA '13 speakers prepare for their conference experience. We look forward to seeing everyone in Washington, D.C., in November.
Date and Location
LISA '13 will take place at the Washington Marriott Wardman Park in Washington, D.C., from November 3–8, 2013. Please visit the Hotel and Travel Information page for instructions on how to book your hotel room.
Speaker Registration
You should have already received information on how to register for LISA '13, including any applicable discount codes. If not, please email conference@usenix.org.
Slide Template
We have prepared a slide template available in PowerPoint format for use in your session presentation.
Please send your completed slides to slides@usenix.org; they will be published on the Web site soon after the event.
Consent Forms
If you haven't already done so, please fill out your consent form and return it to the USENIX office. You can either e-mail them to michele@usenix.org or fax them to 510.548.5738
Invited Talks and Panels Consent Form
Refereed Papers and Experience Reports Form
Promotion
Social Media
Find USENIX on:
Blogging
Want to be interviewed for the USENIX blog? Let us know at marketing@usenix.org.
Alternatively, please email us if you blog about LISA or your talk on another Web site; we're happy to share it amongst our social media outlets.
Banners and Buttons
You are welcome to use the following banners to promote your session and LISA.
I'm Speaking:

Size: 125x125 pixels
<a href="https://www.usenix.org/conference/lisa13"> <img src="https://www.usenix.org/sites/default/files/lisa13_banner_125_speaker.png" border="0" width="125" height="125" alt="I'm Speaking at LISA '13"> </a>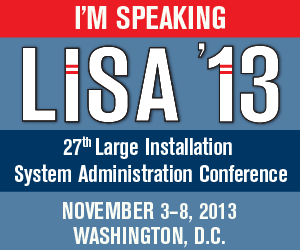 Size: 300x250 pixels
<a href="https://www.usenix.org/conference/lisa13"> <img src="https://www.usenix.org/sites/default/files/lisa13_banner_300x250_speaker.png" border="0" width="300" height="250" alt="I'm Speaking at LISA '13"> </a>
I'm Teaching:

Size: 125x125 pixels
<a href="https://www.usenix.org/conference/lisa13"> <img src="https://www.usenix.org/sites/default/files/lisa13_banner_125_teaching.png" border="0" width="125" height="125" alt="I'm Teaching at LISA '13"> </a>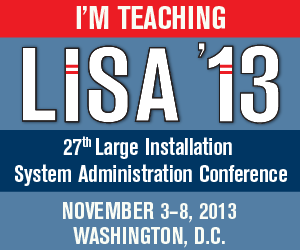 Size: 300x250 pixels
<a href="https://www.usenix.org/conference/lisa13"> <img src="https://www.usenix.org/sites/default/files/lisa13_banner_300x250_teaching.png" border="0" width="300" height="250" alt="I'm Teaching at LISA '13"> </a>