twitter
usenix conference policies
LISA Lab Hack Space
Website Maintenance Alert
Due to scheduled maintenance, the USENIX website will not be available on Tuesday, December 17, from 10:00 am to 2:00 pm Pacific Daylight Time (UTC -7). We apologize for the inconvenience.
If you are trying to register for Enigma 2020, please complete your registration before or after this time period.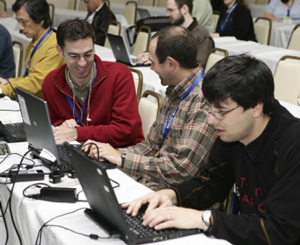 New for 2013! LISA '13 will offer a "hack space," available for informal mini-presentations by seasoned professionals, participation in live experiments, tutoring, and mentoring. Attendees can investigate and test new technologies, and interact with other attendees in a participatory technical setting.
Hack Space hours are Tuesday–Thursday, 9:00 a.m.–11:00 p.m. in the Coolidge Room.
The LISA Lab Hack Space will feature:
Extension of "hallway track" conversations into real demos
Informal continuations of invited talks and refereed paper presentations
Work-in-progress demos
Mentoring by on-site lab guru
Technology demos
Hack Space Sponsors
CFEngine
Google
Microsoft Research
OpenStack and Rackspace
Interested in Sponsoring or Donating Equipment?
Please contact sponsorship@usenix.org.
Questions for the organizers? lisa13labs@usenix.org
LISA Lab Hack Space Schedule
Tuesday, November 5, 2013
Station #

11:00 a.m.–12:30 p.m.
2:00 p.m.–4:30 p.m.
4:30 p.m.–6:00 p.m.
1




 
2
 Ops School

Ops School
Ops School

3
 


 
4
 
 
 
Wednesday, November 6, 2013
Station #

11:00 a.m.–12:30 p.m.
2:00 p.m.–4:30 p.m.
4:30 p.m.–6:00 p.m.
1
Office Hours with John Miller:
DNS Infrastructure
Hand-on with OpenStack
 
2
 Branson Matheson: Using Trac+Subversion for Enterprise Configuration Managment
and Documentation

Hand-on with OpenStack
 
3
 
Hand-on with OpenStack
 
4
 
Office Hours
with Mike Ciavarella: Documentation

 
Thursday, November 7, 2013
Station #

11:00 a.m.–12:30 p.m.
2:00 p.m.–3:30 p.m.
4:00 p.m.–5:30 p.m.
1
Hands-on with Ganeti
(Guido Trotter)
Writing Design Center Sketches for CFengine
(Diego Zamboni)
Hands-on with PXE
(Paul Krizak)
2



Office Hours
with Tom Limoncelli:
One-on-One Time Management

 Office Hours
with Adam Moskowitz

3
 
 
 Paper follow-up:
Back to the Future:
Fault-tolerant Live Update
with Time-traveling State Transfer

4