help promote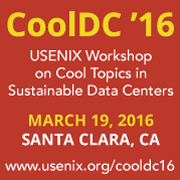 twitter
usenix conference policies
Workshop Program
All sessions will be held in the Bayshore Room unless otherwise noted.
The workshop papers are available for download below. Copyright to the individual works is retained by the author(s).
CoolDC '16 Attendee List (updated 3/17/16)
Saturday, March 19, 2016
8:00 am–9:00 am
Saturday

Continental Breakfast

9:00 am–10:00 am
Saturday

10:00 am–10:30 am
Saturday

Break with Refreshments

10:30 am–11:00 am
Saturday

11:00 am–12:30 pm
Saturday

12:30 pm–2:00 pm
Saturday

Luncheon for Workshop Attendees

2:00 pm–3:30 pm
Saturday

3:30 pm–4:00 pm
Saturday

Break with Refreshments

4:00 pm–5:30 pm
Saturday
Website Maintenance Alert
Due to scheduled maintenance, the USENIX website will not be available on Tuesday, December 17, from 10:00 am to 2:00 pm Pacific Daylight Time (UTC -7). We apologize for the inconvenience.
If you are trying to register for Enigma 2020, please complete your registration before or after this time period.