help promote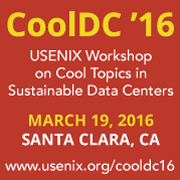 twitter
usenix conference policies
Seeing into a Public Cloud: Monitoring the Massachusetts Open Cloud
Saturday, March 19, 2016 -

11:30am

-

12:00pm
Authors:
Ata Turk, Hao Chen, Ozan Tuncer, Hua Li, Qingqing Li, Orran Krieger, and Ayse K. Coskun, Boston University
Abstract:
Cloud users today have little visibility into the performance characteristics, power consumption, and utilization of cloud resources; and the cloud has little visibility into user application performance requirements and critical metrics such as response time and throughput. This paper outlines new efforts to reduce the information gap between the cloud users and the cloud. We first present a scalable monitoring platform to collect and retain rich information on a regional public cloud. Second, we present two motivating use cases that leverage the collected information: (1) Participation in emerging smart grid demand response programs in order to reduce datacenter energy costs and stabilize power grid demands, (2) budgeting available power to applications via peak shaving. This work is done in the context of the Massachusetts Open Cloud (MOC), a new public cloud project that has a central goal of enabling cloud research.
Open Access Media
USENIX is committed to Open Access to the research presented at our events. Papers and proceedings are freely available to everyone once the event begins. Any video, audio, and/or slides that are posted after the event are also free and open to everyone. Support USENIX and our commitment to Open Access.
BibTeX
@inproceedings {195124,
author = {Ata Turk and Hao Chen and Ozan Tuncer and Hua Li and Qingqing Li and Orran Krieger and Ayse K. Coskun},
title = {Seeing into a Public Cloud: Monitoring the Massachusetts Open Cloud},
booktitle = {USENIX Workshop on Cool Topics on Sustainable Data Centers (CoolDC 16)},
year = {2016},
address = {Santa Clara, CA},
url = {https://www.usenix.org/conference/cooldc16/workshop-program/presentation/turk},
publisher = {USENIX Association},
month = mar
}