help promote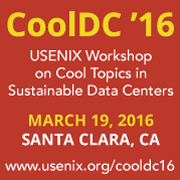 twitter
usenix conference policies
Instructions for Participants
These instructions are for those who will be presenting material at the USENIX Workshop on Cool Topics in Sustainable Data Centers (CoolDC '16). If you wish to submit a paper or deliver a talk at another upcoming USENIX event, please see the Conferences page to find the conference you're interested in.
Visa
If you need an invitation letter to apply for a visa to attend the conference, please contact conference@usenix.org as soon as possible (Visa applications can take at least 30 working days to process.) Please identify yourself as a presenter and include your mailing address in your email.
Contact
If you have questions, please contact Michele Nelson, michele@usenix.org, or your Program Co-Chairs, Weisong Shi and Thomas F. Wenisch, cooldc16chairs@usenix.org.
Instructions for Authors of Refereed Papers
Website Maintenance Alert
Due to scheduled maintenance, the USENIX website will not be available on Tuesday, December 17, from 10:00 am to 2:00 pm Pacific Daylight Time (UTC -7). We apologize for the inconvenience.
If you are trying to register for Enigma 2020, please complete your registration before or after this time period.