help promote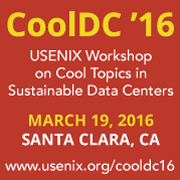 twitter
usenix conference policies
You are here
Home
»
Trinity Facilities and Operations Planning and Preparation: Early Experiences, Successes, and Lessons Learned
Trinity Facilities and Operations Planning and Preparation: Early Experiences, Successes, and Lessons Learned
Saturday, March 19, 2016 -

12:00pm

-

12:30pm
Authors:
Ron Velarde, Carolyn Connor, Alynna Montoya-Wiuff, and Cindy Martin, Los Alamos National Laboratory
Abstract:
There is considerable interest in achieving a 1000 fold increase in supercomputing power in the next decade, but the challenges are formidable. The need to significantly decrease power usage and drastically increase energy efficiency has become pervasive in the high performance computing community, extending from chip design to data center design and operations. In this paper the authors present a short summary of early experience, successes, and lessons learned with respect to facilities, operations, and monitoring of the New Mexico Alliance for Computing at Extreme Scale (ACES), a collaboration between Los Alamos National Laboratory (LANL) and Sandia National Laboratories (SNL), Trinity Supercomputer during the facility preparation and pre-acceptance testing phases of the project. The Trinity Supercomputer, which is designed to exceed 40 Petaflops/s, is physically located at Los Alamos' Strategic Computing Center (SCC) and is a next step toward the goal of exascale computing (a million, trillion operations per second). Discussion topics include facilities infrastructure upgrades, Sanitary Effluent Reclamation Facility (SERF) water use, adaptive design and installation approaches, scalability and stability of monitoring systems, and early power-capping investigation results.
Open Access Media
USENIX is committed to Open Access to the research presented at our events. Papers and proceedings are freely available to everyone once the event begins. Any video, audio, and/or slides that are posted after the event are also free and open to everyone. Support USENIX and our commitment to Open Access.
BibTeX
@inproceedings {195126,
author = {Ron Velarde and Carolyn Connor and Alynna Montoya-Wiuff and Cindy Martin},
title = {Trinity Facilities and Operations Planning and Preparation: Early Experiences, Successes, and Lessons Learned},
booktitle = {USENIX Workshop on Cool Topics on Sustainable Data Centers (CoolDC 16)},
year = {2016},
address = {Santa Clara, CA},
url = {https://www.usenix.org/conference/cooldc16/workshop-program/presentation/velarde},
publisher = {USENIX Association},
month = mar
}