help promote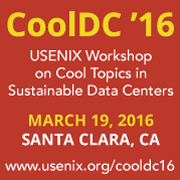 twitter
usenix conference policies
You are here
Home
»
Understanding the Impact of Cache Locations on Storage Performance and Energy Consumption of Virtualization Systems
Understanding the Impact of Cache Locations on Storage Performance and Energy Consumption of Virtualization Systems
Saturday, March 19, 2016 - 4:00pm
Authors:
Tao Lu, Ping Huang, and Xubin He, Virginia Commonwealth University; Ming Zhang, EMC Corporation
Abstract:
As per-server CPU cores and DRAM capacity continuously increase, application density of virtualization platforms hikes. High application density imposes tremendous pressure on storage systems. Layers of caches are deployed to improve storage performance. Owing to its manageability and transparency advantages, hypervisorside caching is widely employed. However, hypervisorside caches locate at the lower layer of VM disk filesystems. Thus, the critical path of cache access involves the virtual I/O sub-path, which is expensive in operation latency and CPU cycles. The virtual I/O sub-path caps the throughput (IOPS) of the hypervisor-side cache and incurs additional energy consumption. It's viable to directly allocate spare cache resources such as DRAM of a host machine to a VM for building a VM-side cache so as to obviate the I/O virtualization overheads. In this work, we quantitatively compare the performance and energy efficiency of VM-side and hypervisor-side caches based on DRAM, SATA SSD, and PCIe SSD devices. Insights of this work can direct designs of high-performance and energy-efficient virtualization systems in the future.
Open Access Media
USENIX is committed to Open Access to the research presented at our events. Papers and proceedings are freely available to everyone once the event begins. Any video, audio, and/or slides that are posted after the event are also free and open to everyone. Support USENIX and our commitment to Open Access.
BibTeX
@inproceedings {195134,
author = {Tao Lu and Ping Huang and Xubin He and Ming Zhang},
title = {Understanding the Impact of Cache Locations on Storage Performance and Energy Consumption of Virtualization Systems},
booktitle = {USENIX Workshop on Cool Topics on Sustainable Data Centers (CoolDC 16)},
year = {2016},
address = {Santa Clara, CA},
url = {https://www.usenix.org/conference/cooldc16/workshop-program/presentation/lu},
publisher = {USENIX Association},
month = mar
}