help promote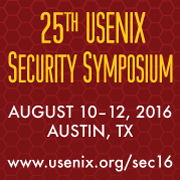 Get more
Help Promote graphics!
twitter
usenix conference policies
Crashing Drones and Hijacked Cameras: CyberTrust Meets CyberPhysical
Jeannette M. Wing, Microsoft Research
Abstract:
Cyber-physical systems are engineered systems that require tight conjoining of and coordination between the computational (discrete) and the physical (continuous). Cyber-physical systems are rapidly penetrating every aspect of our lives, with potential impact on sectors critical to national security and competitiveness, including aerospace, automotive, chemical production, civil infrastructure, energy, finance, healthcare, manufacturing, materials, and transportation. As these systems fulfill the promise of the Internet of Things, smart cities, household robots, and personalized medicine, we need to ensure they are trustworthy: reliable, secure, and privacy-preserving. This talk will look at cyber-physical systems from the lens of trustworthy computing. Throughout my talk, I will raise research challenges for how to make cyber-physical systems trustworthy.
Jeannette M. Wing is Corporate Vice President, Microsoft Research. She is Adjunct Professor of Computer Science at Carnegie Mellon where she twice served as the Head of the Computer Science Department. From 2007-2010 she was the Assistant Director of the Computer and Information Science and Engineering Directorate at the National Science Foundation. She received her S.B., S.M., and Ph.D. degrees in Computer Science, all from the Massachusetts Institute of Technology.
Professor Wing's general research interests are in the areas of trustworthy computing, specification and verification, concurrent and distributed systems, programming languages, and software engineering. Her current research is on the foundations of security and privacy. She is a Fellow of the American Academy of Arts and Sciences, American Association for the Advancement of Science, the Association for Computing Machinery (ACM), and the Institute of Electrical and Electronic Engineers (IEEE).
Open Access Media
USENIX is committed to Open Access to the research presented at our events. Papers and proceedings are freely available to everyone once the event begins. Any video, audio, and/or slides that are posted after the event are also free and open to everyone. Support USENIX and our commitment to Open Access.
BibTeX
@conference {208504,
author = {Jeannette M. Wing},
title = {Crashing Drones and Hijacked Cameras: {CyberTrust} Meets {CyberPhysical}},
year = {2016},
address = {Austin, TX},
publisher = {USENIX Association},
month = aug
}

Presentation Video
Presentation Audio