help promote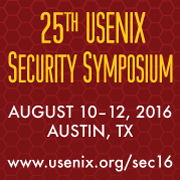 Get more
Help Promote graphics!
twitter
usenix conference policies
Overview
Thanks to everyone who joined us in Austin, TX, for USENIX Security '16. We hope you enjoyed the event. As part of our commitment to open access to research, the full Proceedings, video and audio recordings, and presentation slides are available on the USENIX Security '16 technical sessions page.
Save the Date:
USENIX Security '17
August 16-18, 2017
Vancouver, BC, Canada
The following co-located workshops preceded the Symposium:
Symposium Organizers
Program Co-Chairs
Thorsten Holz, Ruhr-Universtät Bochum
Stefan Savage, University of California, San Diego
Program Committee
Michael Backes, CISPA, Saarland University & MPI-SWS
Michael Bailey, University of Illinois at Urbana-Champaign
Davide Balzarotti, Eurecom
Lujo Bauer, Carnegie Mellon University
Dan Boneh, Stanford University
Joseph Bonneau, Stanford University and The Electronic Frontier Foundation
Nikita Borisov, University of Illinois at Urbana-Champaign
Juan Caballero, IMDEA Software Institute
Srdjan Capkun, ETH Zürich
Stephen Checkoway, University of Illinois at Chicago
Nicolas Christin, Carnegie Mellon University
Manuel Costa, Microsoft Research
George Danezis, University College London
Tamara Denning, University of Utah
Adam Doupé, Arizona State University
Tudor Dumitraș, University of Maryland, College Park
Manuel Egele, Boston University
Serge Egelman, University of California, Berkeley, and International Computer Science Institute
David Evans, University of Virginia
Cédric Fournet, Microsoft Research
Matthew Fredrikson, Carnegie Mellon University
Cristiano Giuffrida, Vrije Universiteit Amsterdam
Matthew Green, Johns Hopkins University
Guofei Gu, Texas A&M University
Saikat Guha, Microsoft Research India
Alex Halderman, University of Michigan
Nadia Heninger, University of Pennsylvania
Cynthia Irvine, Naval Postgraduate School
Martin Johns, SAP Research
Engin Kirda, Northeastern University
Tadayoshi Kohno, University of Washington
Farinaz Koushanfar, University of California, San Diego
Per Larsen, University of California, Irvine
Nektarios Leontiadis, Facebook
Janne Lindqvist, Rutgers University
Ben Livshits, Microsoft Research
Michelle Mazurek, University of Maryland, College Park
Stephen McCamant, University of Minnesota
Damon McCoy, New York University/ICSI
Sarah Meiklejohn, University College London
Prateek Mittal, Princeton University
Tyler Moore, University of Tulsa
Arvind Narayanan, Princeton University
Nick Nikiforakis, Stony Brook University
Cristina Nita-Rotaru, Northeastern University
Mathias Payer, Purdue University
Zachary N. J. Peterson, California Polytechnic State University
Frank Piessens, Katholieke Universiteit Leuven
Michalis Polychranakis, Stony Brook University
Raluca Popa, University of California, Berkeley
Christina Pöpper, New York University
Adrienne Porter Felt, Google
Georgios Portokalidis, Stevens Institute of Technology
Tom Ristenpart, Cornell Tech
Will Robertson, Northeastern University
Franziska Roesner, University of Washington
Andrei Sabelfeld, Chalmers University of Technology
Ahmad-Reza Sadeghi, Technische Universität Darmstadt
Felix Schuster, Microsoft Research
Jörg Schwenk, Ruhr-Universität Bochum
Hovav Shacham, University of California, San Diego
Micah Sherr, Georgetown University
Elaine Shi, University of Maryland, College Park
Reza Shokri, The University of Texas at Austin
Deian Stefan, University of California, San Diego
Gianluca Stringhini, University College London
Cynthia Sturton, The University of North Carolina at Chapel Hill
Patrick Traynor, University of Florida
Giovanni Vigna, University of California, Santa Barbara
David Wagner, University of California, Berkeley
Nick Weaver, International Computer Science Institute
Invited Talks Chair
Adrienne Porter Felt, Google
Invited Talks Committee
Tyrone Grandison, US Department of Commerce
Alex Halderman, University of Michigan
Franziska Roesner, University of Washington
Elaine Shi, Cornell University
Poster Session Chair
Raluca Popa, University of California, Berkeley
Poster Session Committee Members
Nikita Borisov, University of Illinois at Urbana-Champaign
Mathias Payer, Purdue University
Work-in-Progress Reports (WiPs) Coordinator
Patrick Traynor, University of Florida
Steering Committee
Matt Blaze, University of Pennsylvania
Dan Boneh, Stanford University
Kevin Fu, University of Michigan
Casey Henderson, USENIX Association
Jaeyeon Jung, Microsoft Research
Tadayoshi Kohno, University of Washington
David Wagner, University of California, Berkeley
Dan Wallach, Rice University