help promote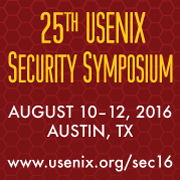 Get more
Help Promote graphics!
twitter
usenix conference policies
Services
Internet Access/Wireless Network Information
Network: USENIX
Passkey: security16
Internet bandwidth is limited; as a courtesy to others, please limit your use of bandwidth-intensive services. The wired and wireless networks provided by USENIX at this conference are for the use of conference attendees only, subject to the following conditions:
USENIX may monitor these networks.
Any illicit or intrusive use of the network, including packet sniffing, is expressly forbidden.
The wireless network is open and insecure. USENIX strongly recommends that all users ­encrypt their transmissions. Users are solely responsible for the security of their passwords and data.
Bulletin Boards/Vendor Materials
Bulletin boards located in the registration area hold messages for attendees, the latest schedule of Birds-of-a-Feather sessions, and job postings. You can also pick up information on products, services, and special offers from the literature table.
Power Outlets
Power strips will be available in the meeting rooms on a first-come, first-served basis.
Social Media
Stay on top of all the USENIX Security '16 chatter! Follow @usenixsecurity and use our official hashtags:
#sec16
#ase16
#cset16
#foci16
#hotsec16
#woot16
USENIX Security '16 Is Mobile!
Access the schedule, speakers, sponsors, exhibitors, hotel floor plans, and more with the USENIX mobile app.