help promote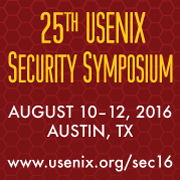 Get more
Help Promote graphics!
twitter
usenix conference policies
Work-in-Progress Reports (WiPs)
Website Maintenance Alert
Due to scheduled maintenance, the USENIX website will not be available on Tuesday, December 17, from 10:00 am to 2:00 pm Pacific Daylight Time (UTC -7). We apologize for the inconvenience.
If you are trying to register for Enigma 2020, please complete your registration before or after this time period.
The following Work-in-Progress Reports (WiPs) will be presented on Wednesday, August 10, 2016, 8:00 pm–10:00 pm, in Zilker Ballroom 2.
NSF Funding Opportunities in Cybersecurity
Deborah Shands, National Science Foundation
Certifying the Security of Android Applications with Cassandra
David Schneider, Technische Universität Darmstadt
ECDSA Key Extraction from Mobile Devices via Nonintrusive Physical Side Channels
Daniel Genkin, Technion and Tel Aviv University
Tor's Next-Generation Onion Services Design
Roger Dingledine, The Tor Project
Internet Jones and the Webs of Time
Adam Lerner, Anna Kornfeld Simpson, Tadayoshi Kohno, and Franziska Roesner, University of Washington
Efficient CPU Cache Prime and Probe Attack Adaptation
Daimeng Wang, University of California, Riverside
Flawed by Design: A Work in Progress, Security Scenario Generator (SecGen)
Z. Cliffe Schreuders, Leeds Beckett University
Towards Automatic Extraction and Synthesis of Cyber Attack Behavior Models
Shanchieh Jay Yang, Jake Saxton, Alexandra Harrison, and Stephen Moskal, Rochester Institute of Technology
Creating a TTP Ecosystem of Support for NSF SaTC PIs
Becky Bace, University of South Alabama