help promote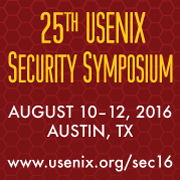 Get more
Help Promote graphics!
twitter
usenix conference policies
Making HTTPS the Default in the World's Largest Bureaucracy
Eric Mill, 18F, U.S. General Services Administration
Abstract:
The US government is in the process of requiring secure connections to its public web services through HTTPS and HSTS. It is a lot of hard work by a lot of good people working in an enterprise of enterprises of enterprises, and it is not strongly centrally coordinated. This talk will discuss the technical and political challenges that have come up during the process, offer a glimpse into the US government's evolving relationship with technology, and share some lessons that may be useful to those pushing for change in their own bureaucracies.
Eric Mill is an engineer at 18F, an office of the U.S. General Services Administration that provides in-house technology services for the federal government. Eric's work at 18F focuses on privacy, security, and open government. Previously, Eric was an engineer at the Sunlight Foundation, a non-profit dedicated to government transparency, where he worked on open data infrastructure and policy.
Open Access Media
USENIX is committed to Open Access to the research presented at our events. Papers and proceedings are freely available to everyone once the event begins. Any video, audio, and/or slides that are posted after the event are also free and open to everyone. Support USENIX and our commitment to Open Access.
BibTeX
@conference {208513,
author = {Eric Mill},
title = {Making {HTTPS} the Default in the World{\textquoteright}s Largest Bureaucracy},
year = {2016},
address = {Austin, TX},
publisher = {USENIX Association},
month = aug
}

Presentation Video
Presentation Audio