help promote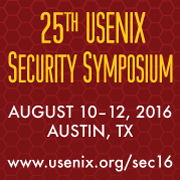 Get more
Help Promote graphics!
twitter
usenix conference policies
AMD x86 Memory Encryption Technologies
David Kaplan, Advanced Micro Devices
Abstract:
This talk will introduce the audience to two new x86 ISA features developed by AMD which will provide new security enhancements by leveraging integrated memory encryption hardware. These features provide the ability to selectively encrypt some or all of system memory as well as the ability to run encrypted virtual machines, isolated from the hypervisor. The talk will cover technical details related to these features, including the ISA changes, security benefits, key management framework, and practical enablement.
The main objective of the talk is to educate the audience on the design and use of these features which are the first general-purpose memory encryption features to be integrated into the x86 architecture.
David Kaplan is a PMTS Security Architect at AMD who focuses on developing new security technologies across the AMD product line as part of the Security Architecture Research and Development center. He is the lead architect for the AMD memory encryption features and has worked on both CPU and SOC level security features for the last 4 years. David has over 9 years of experience at AMD with a background in x86 CPU development and has filed over 30 patents in his career so far.
Open Access Media
USENIX is committed to Open Access to the research presented at our events. Papers and proceedings are freely available to everyone once the event begins. Any video, audio, and/or slides that are posted after the event are also free and open to everyone. Support USENIX and our commitment to Open Access.
BibTeX
@conference {208506,
author = {David Kaplan},
title = {{AMD} x86 Memory Encryption Technologies},
year = {2016},
address = {Austin, TX},
publisher = {USENIX Association},
month = aug
}

Presentation Video
Presentation Audio