help promote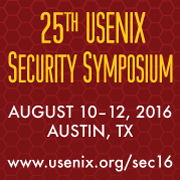 Get more
Help Promote graphics!
twitter
usenix conference policies
Thoth: Comprehensive Policy Compliance in Data Retrieval Systems
Authors:
Eslam Elnikety, Aastha Mehta, Anjo Vahldiek-Oberwagner, Deepak Garg, and Peter Druschel, Max Planck Institute for Software Systems (MPI-SWS)
Abstract:
Data retrieval systems process data from many sources, each subject to its own data use policy. Ensuring compliance with these policies despite bugs, misconfiguration, or operator error in a large, complex, and fast evolving system is a major challenge. Thoth provides an efficient, kernel-level compliance layer for data use policies. Declarative policies are attached to the systems' input and output files, key-value tuples, and network connections, and specify the data's integrity and confidentiality requirements. Thoth tracks the flow of data through the system, and enforces policy regardless of bugs, misconfigurations, compromises in application code, or actions by unprivileged operators. Thoth requires minimal changes to an existing system and has modest overhead, as we show using a prototype Thoth-enabled data retrieval system based on the popular Apache Lucene.
Open Access Media
USENIX is committed to Open Access to the research presented at our events. Papers and proceedings are freely available to everyone once the event begins. Any video, audio, and/or slides that are posted after the event are also free and open to everyone. Support USENIX and our commitment to Open Access.
BibTeX
@inproceedings {197183,
author = {Eslam Elnikety and Aastha Mehta and Anjo Vahldiek-Oberwagner and Deepak Garg and Peter Druschel},
title = {Thoth: Comprehensive Policy Compliance in Data Retrieval Systems},
booktitle = {25th USENIX Security Symposium (USENIX Security 16)},
year = {2016},
isbn = {978-1-931971-32-4},
address = {Austin, TX},
pages = {637--654},
url = {https://www.usenix.org/conference/usenixsecurity16/technical-sessions/presentation/elnikety},
publisher = {USENIX Association},
month = aug
}

Presentation Video
Presentation Audio