help promote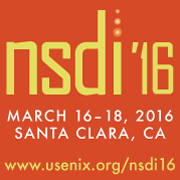 Get more
Help Promote graphics!
twitter
usenix conference policies
Scalable and Private Media Consumption with Popcorn
Authors:
Trinabh Gupta, The University of Texas at Austin and New York University; Natacha Crooks, The University of Texas at Austin and Max Planck Institute for Software Systems (MPI-SWS); Whitney Mulhern, New York University; Srinath Setty, Microsoft Research; Lorenzo Alvisi, The University of Texas at Austin; Michael Walfish, New York University
Abstract:
We describe the design, implementation, and evaluation of Popcorn, a media delivery system that hides clients' consumption (even from the content distributor). Popcorn relies on a powerful cryptographic primitive: private information retrieval (PIR). With novel refinements that leverage the properties of PIR protocols and media streaming, Popcorn scales to the size of Netflix's library (8000 movies) and respects current controls on media dissemination. The dollar cost to serve a media object in Popcorn is 3.87× that of a non-private system.
Open Access Media
USENIX is committed to Open Access to the research presented at our events. Papers and proceedings are freely available to everyone once the event begins. Any video, audio, and/or slides that are posted after the event are also free and open to everyone. Support USENIX and our commitment to Open Access.
BibTeX
@inproceedings {194912,
author = {Trinabh Gupta and Natacha Crooks and Whitney Mulhern and Srinath Setty and Lorenzo Alvisi and Michael Walfish},
title = {Scalable and Private Media Consumption with Popcorn},
booktitle = {13th USENIX Symposium on Networked Systems Design and Implementation (NSDI 16)},
year = {2016},
isbn = {978-1-931971-29-4},
address = {Santa Clara, CA},
pages = {91--107},
url = {https://www.usenix.org/conference/nsdi16/technical-sessions/presentation/gupta-trinabh},
publisher = {USENIX Association},
month = mar
}

Presentation Audio