Exhibit at LISA17
Do not miss this chance for face-to-face time with hundreds of IT operations professionals who want to see the latest and greatest technologies and products!
Who Attends LISA? Practitioners and technical managers from large enterprise and SMB, academic institutions, government, and other organizations who are charged with designing, developing, implementing, and running computer infrastructures. These are the people you need to convince that your company offers the best solutions in this competitive market. Exhibit at the LISA Expo and:
Present your products and services to an audience with heavy purchasing influence
Expose your brand to the LISA community
Introduce new releases and get invaluable feedback from the smartest users in the industry
Expected attendance is 1,100 to 1,200. We drive traffic to your booth with the vendor passport raffle, Expo happy hour, breaks and lunch catering either on, or just outside, the show floor, and Expo passes for your clients.
Booth space sells out every year, so reserve your space now if you know you will be exhibiting at LISA17 by contacting the Sponsorship Department. For detailed information on available packages, please download the LISA17 prospectus, and review the floor plan for open booth spaces. View our current line-up of LISA17 sponsors and exhibitors!
LISA Attendees by Title
System Administrator
36%
Engineer
24%
Developer/
Programmer/
Architect
11%
Technical Manager
8%
C-level/
VP/
Director
6%
Technical Staff/
Researcher
6%
Other
9%
Other Opportunities to Sponsor at LISA17
Support the LISA community, network, and promote your brand!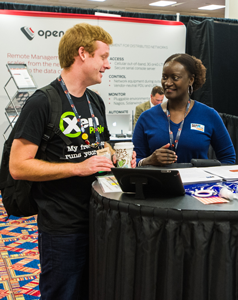 LISA Reception Sponsor: Exclusive opportunity with speaking time at the biggest party held at LISA
Expo Happy Hour Sponsor: Key promotional opportunity, includes a chance to address the attendees during this packed booth crawl
Evening Vendor Birds-of-a-Feather: Share a beer with small groups interested in your company, host a Q&A, and get recruiting leads
LISA Open Access: Support our open access policy and permanently embed your linkable logo in the LISA video archive

RESERVED

Other opportunities are available—just ask!