help promote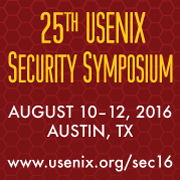 Get more
Help Promote graphics!
twitter
usenix conference policies
Request and Conquer: Exposing Cross-Origin Resource Size
Authors:
Tom Van Goethem, Mathy Vanhoef, Frank Piessens, and Wouter Joosen, Katholieke Universiteit Leuven
Abstract:
Numerous initiatives are encouraging website owners to enable and enforce TLS encryption for the communication between the server and their users. Although this encryption, when configured properly, completely prevents adversaries from disclosing the content of the traffic, certain features are not concealed, most notably the size of messages. As modern-day web applications tend to provide users with a view that is tailored to the information they entrust these web services with, it is clear that knowing the size of specific resources, an adversary can easily uncover personal and sensitive information.
In this paper, we explore various techniques that can be employed to reveal the size of resources. As a result of this in-depth analysis, we discover several design flaws in the storage mechanisms of browsers, which allows an adversary to expose the exact size of any resource in mere seconds. Furthermore, we report on a novel size-exposing technique against Wi-Fi networks. We evaluate the severity of our attacks, and show their worrying consequences in multiple real-world attack scenarios. Furthermore, we propose an improved design for browser storage, and explore other viable solutions that can thwart size-exposing attacks.
Open Access Media
USENIX is committed to Open Access to the research presented at our events. Papers and proceedings are freely available to everyone once the event begins. Any video, audio, and/or slides that are posted after the event are also free and open to everyone. Support USENIX and our commitment to Open Access.
BibTeX
@inproceedings {197257,
author = {Tom Van Goethem and Mathy Vanhoef and Frank Piessens and Wouter Joosen},
title = {Request and Conquer: Exposing {Cross-Origin} Resource Size},
booktitle = {25th USENIX Security Symposium (USENIX Security 16)},
year = {2016},
isbn = {978-1-931971-32-4},
address = {Austin, TX},
pages = {447--462},
url = {https://www.usenix.org/conference/usenixsecurity16/technical-sessions/presentation/vangoethem},
publisher = {USENIX Association},
month = aug
}

Presentation Video
Presentation Audio