help promote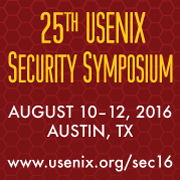 Get more
Help Promote graphics!
twitter
usenix conference policies
Security Competitions
Moderator: Adam Doupé, Arizona State University
Panelists: William Robertson, Northeastern University; Dave Levin, University of Maryland; Sophia D'Antoine, Trail of Bits
Abstract:
Security competitions and, in particular, Capture-the-Flag (CTF), have emerged as an engaging way for people to learn about attacking and defending systems. In this panel, three veterans of the CTF world will share their experiences in playing and running security competitions, and talk about how integrating CTFs into your curriculum or training programs can help to identify and develop security awareness and expertise. Do CTF skills translate into the real world? Does learning how to attack have value in producing safer systems? Are CGC-inspired autonomous agents the future of systems security? All these questions and more will be on the table in this interactive session.
William Robertson is an Assistant Professor of Computer Science at Northeastern University in Boston. His research focuses on the security of operating systems, mobile devices, and the web, making use of techniques such as program analysis, anomaly detection, and security by design. He won DEFCON CTF in 2005 with Shellphish, and participated in the California Top-to-Bottom-Review (TTBR) and Ohio EVEREST reviews of electronic voting security that have had significant impact on public policy in the states of California and Ohio. He is the author of more than fifty peer-reviewed conference and journal articles, has chaired several conferences and workshops (DIMVA, WOOT, ACSAC), and regularly serves on the program committees of top-tier security conferences.
Sophia D'Antoine is a security engineer at Trail of Bits and a graduate of Rensselaer Polytechnic Institute. She is a regular speaker at security conferences around the world, including RECon, Blackhat, and CanSecWest. Her present work includes techniques for automated software exploitation and software obfuscation using LLVM. She spends too much time playing CTF, pwnable.kr and other wargames.
Open Access Media
USENIX is committed to Open Access to the research presented at our events. Papers and proceedings are freely available to everyone once the event begins. Any video, audio, and/or slides that are posted after the event are also free and open to everyone. Support USENIX and our commitment to Open Access.
BibTeX
@conference {208505,
author = {Adam Doup{\'e} and William Robertson and Dave Levin and Sophia D{\textquoteright}Antoine},
title = {Security Competitions},
year = {2016},
address = {Austin, TX},
publisher = {USENIX Association},
month = aug
}

Presentation Video
Presentation Audio