help promote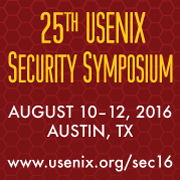 Get more
Help Promote graphics!
twitter
usenix conference policies
Privacy and Threat in Practice: Mobile Messaging by Low-Income New Yorkers
Ame Elliot, Simply Secure
Abstract:
Is a theoretically-secure system any good if it doesn't address users' real-world threat models? Is the security community today meeting the needs of a mass, global audience, or simply building tools and features for itself? Do we know how to understand what people really need?
We asked a group of straight-talking New Yorkers about the data-security threats they face. Their answers indicate a significant gap between their lived experience and the way our community thinks about security. To bridge this gap and get privacy-preserving systems into the hands of real people, we need more foundational research to understand user needs, not only late-stage usability studies in a lab.
Through in-context interviews in homes, restaurants, and libraries, our study gained insights into a world of constant surveillance experienced by a group of low-income African-Americans. They shared specific examples of how their phone is threatened at home, work, and on the street. This talk shares our participants' threat models. From shoulder-surfing, to catfishing, to how a "renter's mindset" develops around handsets controlled by adversarial telecom providers, understanding privacy and threat in practice has far-reaching implications for the future of information security.
Ame Elliott is Design Director at nonprofit Simply Secure, where she focuses on the user experience of privacy-preserving technologies that empower people. Previously she worked as design research lead for IDEO San Francisco delivering tech strategy for clients such as Acer, Ericsson, and Samsung. Prior to IDEO, she was a research scientist at Xerox PARC, and at Ricoh Innovations. She earned a Ph.D. from the University of California, Berkeley for her work creating hybrid physical-digital interactions to support the architectural design process. Ame holds eight patents and is the author of numerous publications including a chapter in the Oxford Handbook of Internet Psychology. Her design work has been included in the Cooper-Hewitt Smithsonian Design Museum and recognized with awards from the AIGA, IDSA/IDEA, the Edison Awards, and the Webby Awards.
Open Access Media
USENIX is committed to Open Access to the research presented at our events. Papers and proceedings are freely available to everyone once the event begins. Any video, audio, and/or slides that are posted after the event are also free and open to everyone. Support USENIX and our commitment to Open Access.
BibTeX
@conference {208511,
author = {Ame Elliot},
title = {Privacy and Threat in Practice: Mobile Messaging by {Low-Income} New Yorkers},
year = {2016},
address = {Austin, TX},
publisher = {USENIX Association},
month = aug
}

Presentation Video
Presentation Audio