help promote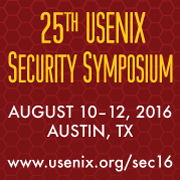 Get more
Help Promote graphics!
twitter
usenix conference policies
Defending against Malicious Peripherals with Cinch
Authors:
Sebastian Angel, The University of Texas at Austin and New York University; Riad S. Wahby, Stanford University; Max Howald, The Cooper Union and New York University; Joshua B. Leners, Two Sigma; Michael Spilo and Zhen Sun, New York University; Andrew J. Blumberg, The University of Texas at Austin; Michael Walfish, New York University
Abstract:
Malicious peripherals designed to attack their host computers are a growing problem. Inexpensive and powerful peripherals that attach to plug-and-play buses have made such attacks easy to mount. Making matters worse, commodity operating systems lack coherent defenses, and users are often unaware of the scope of the problem. We present Cinch, a pragmatic response to this threat. Cinch uses virtualization to attach peripheral devices to a logically separate, untrusted machine, and includes an interposition layer between the untrusted machine and the protected one. This layer regulates interaction with devices according to user-configured policies. Cinch integrates with existing OSes, enforces policies that thwart real-world attacks, and has low overhead.
Open Access Media
USENIX is committed to Open Access to the research presented at our events. Papers and proceedings are freely available to everyone once the event begins. Any video, audio, and/or slides that are posted after the event are also free and open to everyone. Support USENIX and our commitment to Open Access.
BibTeX
@inproceedings {197175,
author = {Sebastian Angel and Riad S. Wahby and Max Howald and Joshua B. Leners and Michael Spilo and Zhen Sun and Andrew J. Blumberg and Michael Walfish},
title = {Defending against Malicious Peripherals with Cinch},
booktitle = {25th USENIX Security Symposium (USENIX Security 16)},
year = {2016},
isbn = {978-1-931971-32-4},
address = {Austin, TX},
pages = {397--414},
url = {https://www.usenix.org/conference/usenixsecurity16/technical-sessions/presentation/angel},
publisher = {USENIX Association},
month = aug
}

Presentation Video
Presentation Audio